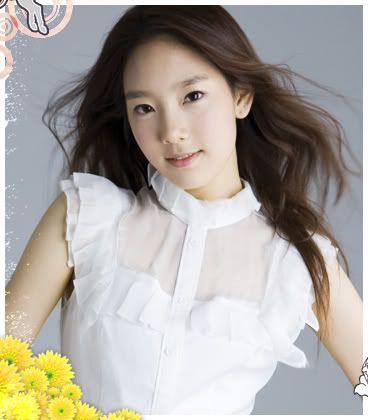 Birth name:
Kim Tae-yeon
(Hangul: 김태연 | Hanja: 金泰妍)
Stage name: Taeyeon
Birthplace: Jeonju, North Jeolla, South Korea
Blood type: O
Position: Group leader, Main Vocalist
Sibling:

1 older brother (Kim Ji-woong), 1 younger sister (Kim Ha-yeon)
Language:

Korean (Fluent), English, Chinese (Basic), Japanese (Basic)
Specialty:

Trot
Casted:

2004 SM 8th Annual Best Contest (Best Singer 1st Place Grand Award)
Training Duration:

3 Years 3 Months
School:
Jeonju Art High School (전주예술고고등학교) [graduated]
Career:
-
2004 Featured with The One
'You Bring me Joy'
(Part 2)
- 2007 CF Gamevile Mobile Stone in the Water
- 2008 DJ for MBC 'Kangin & Taeyeon's Chinhan Chingu' (with Super Junior Kangin)
- 2008 OST for KBS drama Hong Gil Dong 'If (Manyage/ 만약에)
'
- 2008 MV Lee Byul – 'Forever'
- 2008 OST for MBC drama Beethoven Virus 'Can You Hear Me
'
- 2009 Variety show MBC 'We Got Married'
(with Jung Hyung-don)
- 2009 DJ for MBC radio 'Taeyeon's Chinhan Chingu'
- 2009 OST for MBC drama Heading to the Ground 'It's Love' (with Sunny)
- 2009 Model for 'A-Solution' cosmetic (with Tiffany)
- 2009 CF 'Post Cereal' (with Tiffany & Sooyoung)
- 2010 MC for KBS2 talk show 'Seung Seung Jang Goo (Win Win)'- 2010 Musical 'Midnight Sun' from the movie 'Taiyou no Uta' (as Kaoru Amane)
- 2010 Voice Actor for 'Despicable Me' Korean title: 'Superbad' (as Margo)
- 2010 Featured with The One 'Like a Star'- 2011 OST for SBS drama Athena: Goddess of War 'I Love You'
- 2011 Featured with Kim Bum-soo 'Different'

Trivia:
Despite her kid-like appearance, Taeyeon is the oldest member and leader of SNSD.

Taeyeon is considered as the best singer of SNSD.

Taeyeon is the SNSD member with the largest fanbase. Her fanbase is the largest among female idol singers in Korea.

Her vocal mentor is The One who praised her as his most memorable student. Prior to SNSD, 15-year-old Taeyeon was featured on his song called 'You Bring Me Joy (Part 2)'. Six years later in late 2010 the teacher-student duo re-teamed for a hit single 'Like a Star'.

Taeyeon is nicknamed as "OST Queen" because she has numerous of #1 hit drama soundtracks.

Taeyeon hometown is Jeonrado Jeonju.

Taeyeon's parents own a optical shop in Jeonju.

Taeyeon made her musical debut as Kaoru Amane in Midnight Sun, a musical adaptation of movie 'Taiyou no Uta'. She learned how to play guitar for that role.

Taeyeon's favorite color is purple.

Taeyeon has a infamous self-explanatory nickname, which is "Byuntaeng" (byuntae + taengoo, with "byuntae" means "pervert").